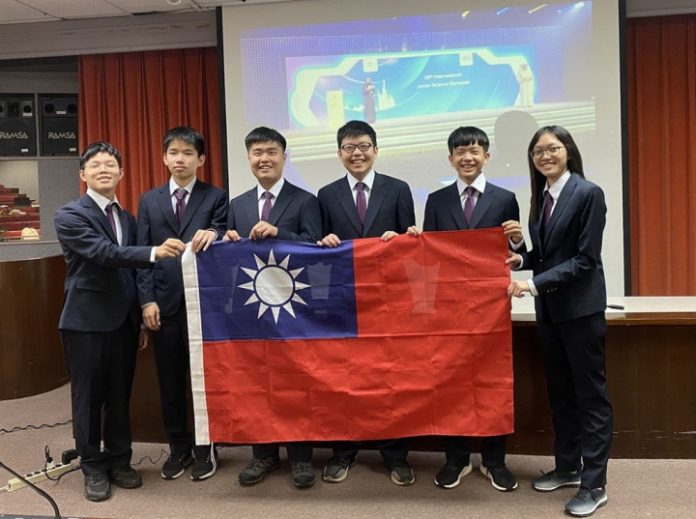 Taipei, Dec. 21 (CNA) Taiwan won a total of six gold medals at this year's International Junior Science Olympiad (IJSO) hosted by the United Arab Emirates, which came to a close Monday.
The event, which kicked off Dec. 12 in Dubai, included individual and team competitions for students 15 years old or younger in physics, chemistry and biology.
The six members of the Taiwan team each won a gold medal.
One of the victorious students, Lin Hsuan-ming (林軒名) from Tainan First Senior High School, also won the Olympiad's "theory category" and the "best overall category" awards.
Lin said he was the kind of person who enjoys tackling challenges and tried to apply critical thinking to overcome all kinds of problems.
The gold medalist said he had learned a lot from competing at the Olympiad and was satisfied with the team's overall results.
The five other gold medalists include Chang Cheng-han (張丞漢) of National Tainan First Senior High School, Chen Po-kai (陳柏凱) of Taipei Municipal Jianguo High School, and Hsu Meng-che (許孟哲) of Kaohsiung Municipal Kaohsiung Senior High School.
Also on the list are Rong Ching-yi (戎慶一) of Taichung Municipal Taichung First Senior High School, and the team's youngest member Tsai I-shan (蔡依珊) of Tainan Municipal Jiansing Junior High School.
The six Taiwanese competitors, headed by National Taiwan Normal University professor Chang Yung-ta (張永達), took part in the event virtually this year due to the COVID-19 pandemic.
The theoretical questions at this year's Olympiad were relatively difficult and required a lot of critical thinking, especially with points being deducted for mistakes, the professor said.
Taiwan has participated in the IJSO since its inception in 2004, and the country has topped the medal table 11 times, winning 89 gold and 13 silver medals to date, according to a Ministry of Education press release Tuesday.
A total of 359 students from across 59 nations participated at this year's event, which was hosted in Dubai.
Comments