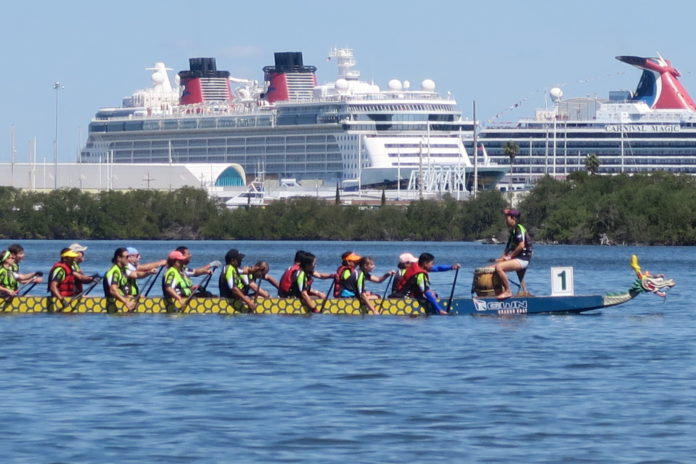 I have paddled with R.E.A.C.H powered by Asia Trend for three years in the GWN Walgreens Orlando International Dragon Boat Festival in October, thus I am familiar with the anxious excitement while paddling towards the start line and the synchronized commotion as the boat jerks forward to the beat of the drum.
The exhilaration of the race is what tempted me to take the offer of joining CHARGE in Port Canaveral without hesitation. Dragon boating easily became my favorite hobby in high school and I am extremely grateful for the opportunities that are provided for me to participate. The races with R.E.A.C.H, a high school team from R.E.A.C.H of Central Florida, would be three 500 meters spread out through the day with hours in between to rest. R.E.A.C.H races with the community division and we have won multiple trophies for consolation finals. Racing with CHARGE was a completely new experience; there were five races with three different distances. Five races sound a lot more than three races and 2,000m sounds a lot farther than 500m. The 2k was unimaginable to me as I was out of practice and watching videos of 2k races were intimidating as the paddlers follow nonstop cyclic arm movements.
CHARGE has a formidable reputation among us high school paddlers as they are our trainers and dragon boat idols. The R.E.A.C.H steerman and coach during practice are CHARGE paddlers and we frequently practice during the same time. I have fond memories of mini races with the CHARGE boat and their generosity of allowing us a five-second head start. Becoming a part of the CHARGE team for the day was thrilling; all the paddlers were welcoming and gave me the advice to improve my technique. The day sped by with five races going back to back, with less than 20 minutes in between to rest and eat. Each race got more and more exciting until the final 2k.
The Dragon boat is a team building sports since it requires complete synchronization to be successful. Even though it has been a long time since I have last practiced, I fully enjoyed my experience paddling with CHARGE and cannot wait for the CAACF Duanwu Festival on June 17 for more.  Contact Joanna Kiang at 812-320-4589 or email [email protected] if you want to join the dragon boat workshop from 8:30 am to 12:30 pm.
more info about CHARGE Dragon Boat – Orlando at www.chargedragonboat.org
more info about R.E.A.R.C.H. of Central Florida at www.reachocf.org
Article By Nicky Zou
Nicky Zou is the President of Cypress Creek High School's Asian Student Association and the Senior Vice President of R.E.A.C.H of Central Florida. She will be attending the University of Florida majoring in management.
Comments