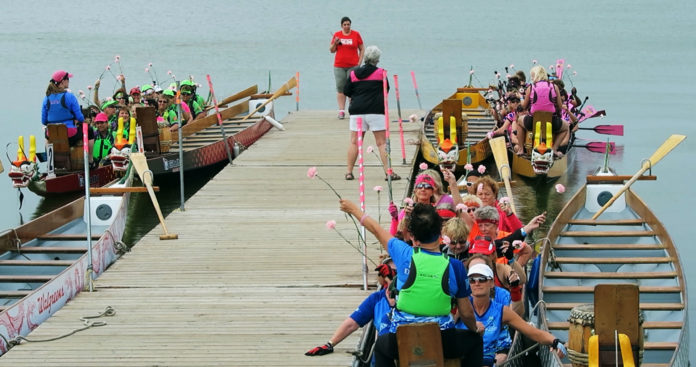 The 4th Annual Walgreens Space Coast Dragon Boat Festival Presented by PepsiCo took place on the waters of the Cape Canaveral's Banana River Lagoon at Manatee Sanctuary Park on April 16, 2016.

Watch as twenty paddlers moved in unison, combining strength with teamwork in a boat whose elaborate dragon design originates in ancient China.
Attendees enjoyed the beautiful scenery and nature of Manatee Sanctuary Park while following the excitement of the races and enjoying a cold beer and food from the Food Truck BBQ.
A dragon boat team is required to have 20 paddlers, ten of them female, and one drummer to participate.  Teams competed in heats of 250 meter races and 500 meter races in four divisions: Mixed, Men, Women and Breast Cancer Survivors.  Mixed team with the addition of the insane 2k fast pursuit for Sport Division teams.
Dragon boating is a team sport  that goes back more than 2,000 years. The boat is adorned with a dragon head and tail before races. In recent years, a growing number of breast cancer survivor groups around the world have started to use the sport to rebuild their lives and forge friendships.
Photos: C.K. Lau (To view the photo album, visit www.facebook.com/asiatrend)
Families brought the kids to enjoy the games and activities. Guests and athletes also wandered over to the Walgreens Health and Wellness Village where they received the products and services to help maintain a healthy lifestyle.
For more information, please visit www.GWNDragonBoat.com
Comments