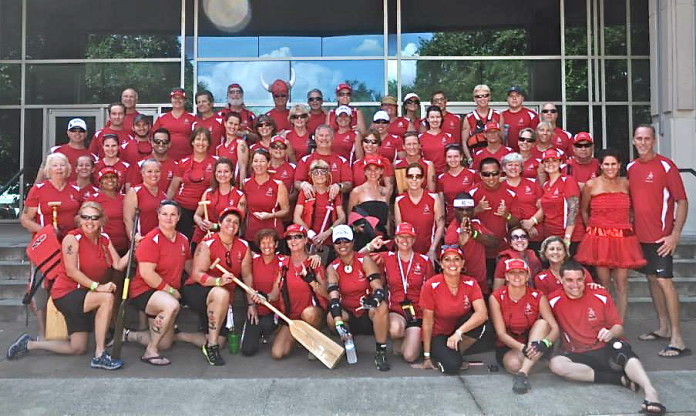 The JAX Fire Dragons are North Florida's first and most successful competitive dragon boat racing team. Founded in 2012, the club is a 501(c)3 tax exempt organization dedicated to fostering the many health and social benefits of paddling a dragon boat. Our roster consists of 65 paddlers ranging in age from 15 to 73 and we race in mixed, women's and (soon) BCS divisions. 2014 is our second full year of competitive racing and our success has been driven by hard work and dedication, attention to proper paddling technique and a passion for this great sport.
Our Team President and Head Coach, Joe Longobardi, and his wife, Berni, are experienced dragon boaters who moved to Jacksonville in 2010 after more than a decade in Miami. Having been members of competitive teams in Miami, they dedicated a lot of time and effort to bring dragon boating to this part of Florida where the sport was unknown. The JAX Fire Dragons were born in early 2012 and since then, Coach Joe has literally introduced the sport to more than 300 enthusiastic newcomers resulting in not just the formation of the Fire Dragons but 2 nonaffiliated teams in the area as well. In addition, two former Fire Dragons moved to Washington State at the end of 2013 and quickly re-formed a dormant racing team there and are currently coaching them on to success. And, perhaps a crowning achievement for the area since Coach Joe introduced the sport, Jacksonville had its very first Dragon Boat Festival in September of 2013 benefitting In the Pink, a boutique for women with cancer.
The successful growth of the JAX Fire Dragons into a respected and competitive team in such a short period of time is indicative of what can happen when people discover the spiritual, physical and mental attributes of paddling in a crew of 20 fellow dragon boaters. Your body is strengthened, your mind is cleared and you reach a spiritual zone of being one with the water. All of this comes with hard work and the plethora of medals and trophies earned by the Fire Dragons is the result.
A significant achievement was the Southeast Regional Dragon Boat Association awarding of two Senior A Division (40+) berths in the 2014 World Club Crew Championships to the JAX Fire Dragons' mixed crew and its all women's crew, CHIX with STIX to be held in Ravenna, Italy in September 2014. The team is extremely proud of winning this distinction at such an early point in its history and is very excited to go up against competitive clubs from over 22 countries competing there.
The Fire Dragons, however, are not just about racing. The team has involved itself in numerous community events in the Jacksonville area to include river and highway cleanup campaigns, supporting long distance swimmers in a St. John's river race, fund raising and other donations for various local charities, and continuously spreading the news about dragon boating to young and old. We are proud of our members who come from all walks of life and are more than willing to give of their time to help foster this sport. We are also proud of our sponsors who believe in what we are doing and without whose generosity, our activities would be seriously curtailed.
With the JAX Fire Dragons representing the Jacksonville area in Italy in September and the second Jacksonville DB Festival happening two weeks later, the sport is going to continue to get a lot of positive attention. The future remains bright for dragon boating to grow and prosper in our area and our success story is a good one for new and future teams to consider around the country. All it takes is hard work and dedication, a sponsor or two, a bit of luck and most importantly, a huge devotion to this amazing team sport.
Comments