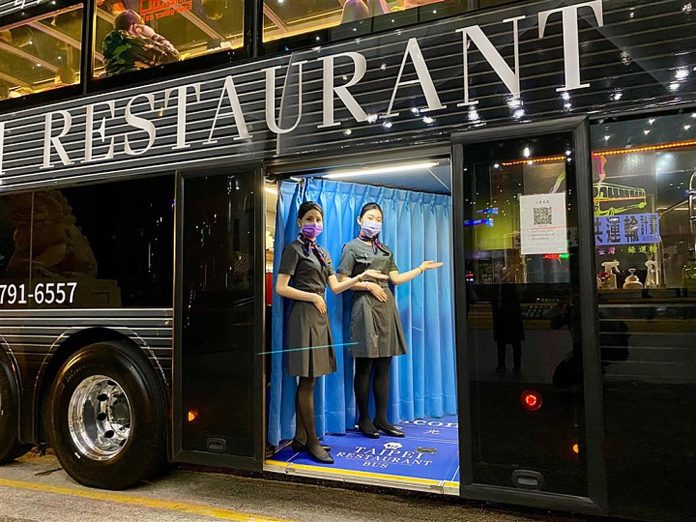 Taipei, Dec. 14 (CNA) Taipei's first-ever luxury restaurant bus launched its service Tuesday with fully booked tours of city landmarks and attractions and fine dining for passengers, according to the managers.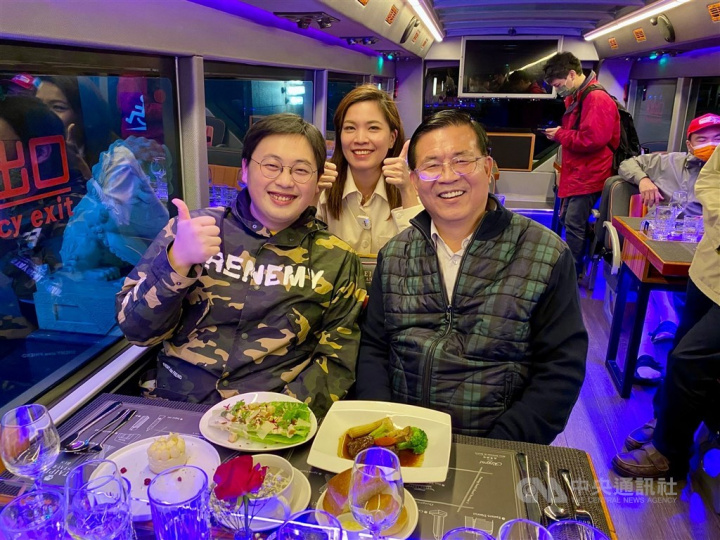 During an onboard press conference on one of the trips, Taipei Restaurant Bus CEO Hsu Hao-yuan told the media that the three earlier tours were all sold out, and the passengers had given good feedback.
Furthermore, most of the tours were fully booked out until the end of the month, Hsu said, adding that the only available seats were for the dinner service, which was about 70-80 percent booked.
The 26-seat double-decker has launched its city tours with three regular daily runs, offering afternoon tea and dinner services Tuesday to Sunday, and reserving Mondays for corporate and other special bookings, he said.
The tours, which start and end at Taipei City Hall MRT station, take passengers past many of the city's landmarks such as National Dr. Sun Yat-sen Memorial Hall and Taipei 101, Hsu said.
"Reception has been very good," Hsu said. "It was beyond our expectations."
Currently, the bus service is offering menus from Regent Hotel, prepared in a kitchen on the lower deck of the bus, but the menu might change, depending on the season, according to Hsu
The afternoon tea menu offers roast beef and shrimp brioche, pistachio macaroon and raspberry madeleine, while the full course dinners include braised Wagyu beef cheek with red wine sauce and Caesar salad.
"Originally, we had planned to serve beef noodles and Din Tai Fung, food that tourists really like, but since (Taiwan's) borders are not open to tourists, we decided against that," Hsu said.
He said only one bus is running at the start of the service, but a second bus may be introduced in four to six months, depending on the circumstances.
Liu Yi-ting , commissioner of Taipei's Department of Information and Tourism, said the launch of the restaurant bus tours had been postponed from earlier in the year due to the COVID-19 pandemic.
"Today is the first day, and we hope every trip will be fully booked, Liu said. "As best I know, there have been many inquiries about the bus for both afternoon tea and dinner."
The idea of launching a double-decker restaurant bus came after overseas surveys, conducted two years ago, found that international cities like Tokyo, Bangkok, London and Hong Kong all had similar services, according to Eric Hsu , chief operating officer of Sanjin Integrated Marketing Co., Ltd., the main operator of the Taipei bus service.
Comments