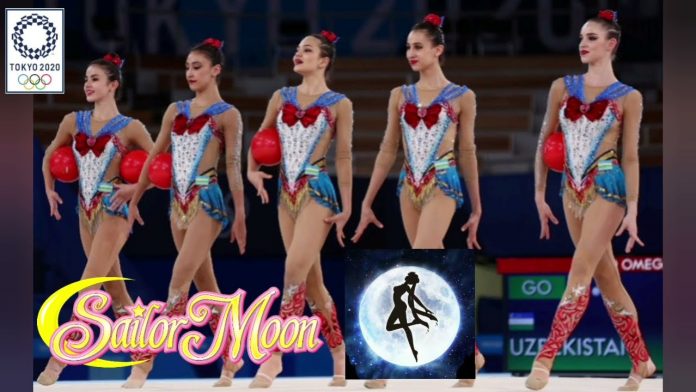 The Uzbekistan rhythmic gymnastics team conquered the fans of Sailor Moon around the world with a ball routine inspired by Naoko Takeuchi's iconic creation during multiple ensemble competition at the Tokyo 2020 Olympics. Unfortunately, the Uzbek representatives finished in ninth place.
Miren! De verdad lpm que precioso todo, el traje, el opening de Sailor Moon, la rutina 🥺💜

El equipo de Uzbekistán se gano mi corazon

pic.twitter.com/e5sSHeJuO6

— MiLi⁷𐤀🏳️‍🌈 (@MiLiKookTae) August 7, 2021
The costume is similar to the one worn by Usagi Tsukino, the main Sailor Scout, consisting of a blue skirt, a red bow, and the brooches. The only thing they didn't do was the iconic hairstyle, but that's understandable.
Naoko Takeuchi is a manga writer and artist who is best known for being the creator of Sailor Moon and Codename: Sailor V. 
Watch this video from the pre-Olympics Championship which is the same routine the Uzbekistan rhythmic gymnastics team performed in the Olympics.
Comments