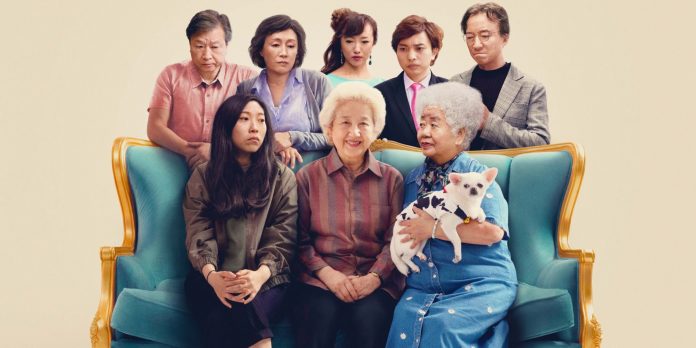 Last week Lulu Wang's film "The Farewell" starring Awkwafina was released in cinemas, through an initiative by Allied Global Marketing I was fortunate enough to attend an advanced screening of the film for the Central Florida region last night (7/24/19). The film itself carries deep meaning that rocked me to my core, it is the sort of film that makes you want to go back in time and hug your grandmother as tightly as you can.
The plot follows the journey of Billie (played by Awkwafina) who goes to China to attend a family wedding planned as a facade in order for the family to see Billie's dying grandmother. The film explores the dichotomy of "West versus East", grappling with the dissonance between being an individual and being part of a collective whole. This struggle is no doubt something many Asian Americans face at some point in our lives, as ultimately yes, there is a dissonance between our desire for individuality in America and the collectivistic nature of our cultures at home. There are times while watching the film I would forget I was watching a movie, as the conversations and dialogue within it are so real, and so authentic, it is as if I was listening to excerpts of family conversations that have happened in my own life, and this rings true with several people who have connected to this film emotionally.
The film is "based on a true lie" as filmmaker Lulu Wang attributes the underlying lie of keeping the grandmother in the dark about her terminal illness to her own family experience. In several respects this film is relatable as various cultures and subcultures take on this practice, and even among those that don't, the element of individual sacrifice and burden for the sake of someone you love forms the very basis of how we may live.
Lulu Wang masterfully was able to mesh usage of Mandarin and English on the big screen, and create a powerful message that transcends cultures, languages, generations and mindsets. There is a very human element to clinging on to what you love dearly, and it was refreshing to see such a meaningful take on the human experience through one of the many lenses of Chinese culture. We as a diverse society should continue to support the popularization of artforms that represent narratives that are as diverse are we are, as ultimately we share a human experience and owe it to ourselves to enrich ourselves with the many narratives, experiences and teachings of the world.
"The Farewell" is a film about how far family can go in order to care for the ones we love, but it is also a film about what it means to be part of something greater than yourself. And perhaps there is a lesson to be learned from this, in our fast-paced world we tend to focus on ourselves and our own ambitions, whether you agree if this is the right thing to do or not is another story, but there is no denying that it is sobering to take a step back and recognize the contributions other people, friends and family, have made to who you are today.
Comments