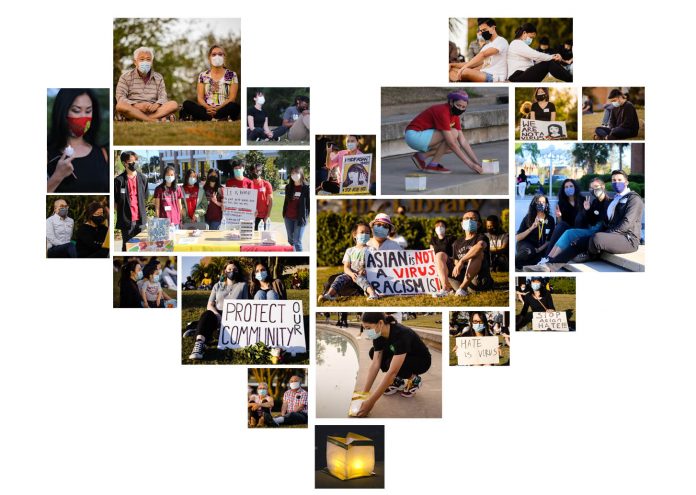 On March 23, over two hundred people joined a vigil was held at the University of Central Florida to honor those who have killed in the Atlanta spa shootings.
The lantern vigil, organized by Asian Pacific American Coalition at UCF, and the Social Justice and Advocacy Department coordinated with many local Asian associations, was held at the UCF Reflecting Pond. The volunteers included a group from the UCF #StopAsianHateatUCF, Wah Lum Ku Fu Temple, and REACH of Central Florida, an organization dedicated to promoting Asian culture and heritage.
The vigil opened with several speakers from UCF's, the local Asian Pacific American coalition chapter, members of the community, participants, and a lantern ceremony.
Orlando Statement against anti-Asian hate
We, as the Asian American Pacific Islander (AAPI) leaders of Orlando, call upon the Orlando community to rise up in support of the AAPI communities and take a stance against anti-Asian hate crimes. In the past year, we have seen elderly Asian Americans beaten and children assaulted. When eight people were killed in Atlanta spas, including six Asian American women, it was both violent and discriminatory. Here in Central Florida, our community has suffered from direct incidents of verbal abuse and racism. Strangers inappropriately blaming Asian Americans for COVID-19 is both ignorant and destructive. We are concerned for our own safety and the safety of our loved ones, both young and old, here in Central Florida.
Since the beginning of the pandemic last year, Stop AAPI Hate received nearly 3,800 reports of hate-related incidents nationwide against Asian Americans. To stop this, we must all work together to get legislation approved, condemning hate crimes against Asian Americans. Local law enforcement must also take the reporting of harassment and hate crimes seriously, whether such attacks manifest physically or verbally. We encourage the AAPI community to unite and report these hate crimes and incidents. We are speaking out to educate others and come together for support.
This is an opportunity for us to join together in solidarity, love, and compassion for one another. As the late activist Yuri Kochiyama said, "We are all part of one another." Let us rebuild our trust and amity for one another through these shared burdens.
The associations signed the Orlando Statement against anti-Asian hate:
Comments