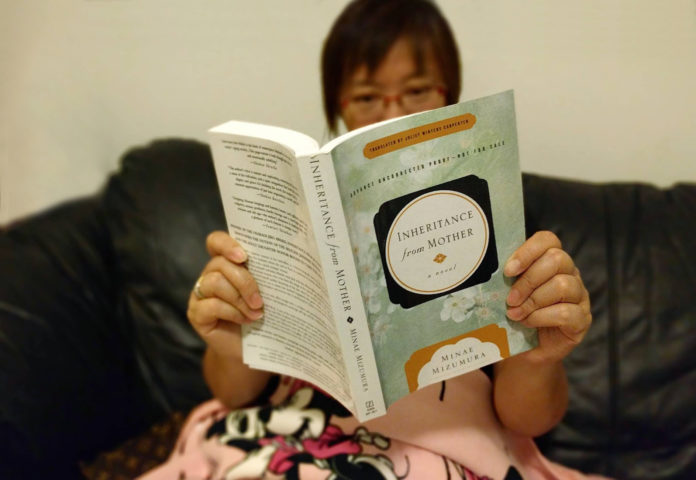 ***Winner of the Osaragi Jiro Award, commemorating the most accomplished book in prose, including both fiction and non-fiction***
Minae Mizumura, one of Japan's most important writers today, is celebrated for her ability to draw from classics like Wuthering Heights and The Great Gatsby, to create something distinctly her own, and in her new novel INHERITANCE FROM MOTHER (Other Press Hardcover; On Sale: May 2, 2017), literary critics have noted echoes of Simone de Beauvoir's A Very Easy Death in her account of providing terminal care for her mother, traces of Virginia Woolf's  A Room of One's Own in her commentary on women's self-reliance, and even Albert Camus' The Stranger with her existentialist inquiry and absurdist tone. INHERITANCE FROM MOTHER follows Mitsuki Katsura, a Japanese woman in her mid-fifties, who works as a French-language instructor at a private university in Tokyo. Mitsuki is simultaneously grappling with her husband's infidelity and the care of her ailing eighty-something mother. It first appeared in serialized, weekly installments in the most popular newspaper in Japan, The Yomiuri Shimbun, from 2010-2011, a practice harkening to Charles Dickens's time, and went on to win the Osaragi Jiro Award in 2012. Distinct to Mizumura's style, it is an engrossing novel that weaves a number of literary traditions but remains uniquely modern, particularly in its exploration of themes felt so immediately by the Baby Boomer generation, both coming to terms with their own aging, while often also overseeing the care of their own declining elders.
Mizumura spins an indelible tale, offering a kaleidoscopic portrait of the burdens inherent to this stage of life and the possibility of the metamorphosis to follow. She adroitly distills a sweeping social phenomenon through the lens of one woman's absorbing personal story. Sharp with insight into the dynamics between mothers and daughters, marriage, money, old age, and the resilience of women, INHERITANCE FROM MOTHER is sure to offer an emotional reading journey and be treasured as a classic for decades to come.
More about INHERITANCE FROM MOTHER
Mitsuki is the younger daughter, bound by filial duty and a flighty but wealthy older sister, to care for their unyielding mother. She neglects her personal health and marriage, providing her mother with the softest scarves and choicest sashimi, and investigating the best nursing homes and hospitals they can afford. Caring for her mother is a banal, unglamorous, and costly task. As the love child of a geisha and a young man, Mitsuki's mother and family were shunned by Japan's upper crust society and lingering resentments and jealousies from this upbringing bear out in her mother's shrill demands for the finest luxuries in her late age. One day, while rifling through her husband Tetsuo's study, Mitsuki comes across a pink, feminine tissue case, which leads to the revelation of his third affair. Drained of the emotional capacity to deal with his infidelity, Mitsuki focuses squarely on caring for her exceedingly self-absorbed mother and finds herself dreaming of the day when she will finally pass on. The novel's pacing intensifies following her mother's passing, when Mitsuki retreats to a forlorn lake-front hotel in Hakone, a historic mountain resort near Tokyo, and contemplates her own impending divorce, her mother's legacy, and precarious independence.
About the author
Minae Mizumura is one of the most important writers in japan today. Born in Tokyo, she moved with her family to Long Island, New York when she was twelve. She studied French literature at YaleCollege and Yale Graduate School. Her other novels include the Yomiuri Prize-winning A True Novel, Zoku meian (Light and Dark Continued), a sequel to the unfinished classic Light and Dark by Soseki Natsume, and Shishosetsu from left to right (An I-Novel from Left to Right), an autobiographical work. Her most recent book in English The Fall of Language in the Age of English was published by Columbia University Press. She lives in Tokyo.
About the translator
Juliet Winters Carpenter studied Japanese language and literature at the University of Michigan and the Inter-University Center for Japanese Language Studies in Tokyo. Carpenter's translation of Kobo Abe's novel Secret Rendezvous won the 1980 Japan–United States Friendship Commission Prize for the Translation of Japanese Literature, and her translation of Minae Mizumura's A True Novel won the same prize for 2015-2016, making her the only person to have won this prestigious award twice.
Praise for INHERITANCE FROM MOTHER
"Minae Mizumura's Inheritance from Mother: A Newspaper Novel is the kind of masterpiece destined to emerge in today's aging society. Already exhausted from caring for her aged mother, the protagonist is beset by a new trial: her husband's infidelity. Tragedies of modern society are never treated as social issues but are presented throughout in the language of the individual, which is the language of literature. This page-turner is both thought-provoking and emotionally satisfying."—SHUKAN SHINCHO
"The contents are fascinating, the work gripping. Human longings and hatreds; beauty and ugliness; grace and vulgarity; money problems, family lineage, and a marriage gone sour; sickness and old age—the author's adeptness in dealing fully with a plethora of such themes is simply scary."—YOMIURI SHIMBUN
"This is a harrowing novel that truly hits home. Caregiving, marital infidelity, economic uncertainty, the threat of old age and enfeeblement: all the reasons why 'it's tough being a woman' are here on full display. But there is nothing cut-and-dried about the story, which offers plenty of common ground for a positive evaluation of life, with sympathetic episodes that affirm the dignity of women. The novel can be read as the saga of three generations of women, and as a model case that gives food for thought concerning caregiving, divorce, and women's self-reliance. . . This book's answer to the ultimate question of which to choose, love or money, is at once utterly contemporary and profound." —ASAHI SHIMBUN
"The author's voice is mature and captivating, conveying sly humor, a sense of the ridiculous, and a quiet resignation that lend the story dignity and grace. On finishing the novel, the reader has a renewed appreciation of just how engrossing a novel can be."—SHUKAN BUNSHUN
"The sentence 'Today my mother died' resonates with the alienation of Albert Camus' The Stranger, and passages on women's self-reliance offer echoes of Virginia Woolf's essay 'A Room of One's Own.' In the second half, towards the end as the protagonist Mitsuki confronts her husband's betrayal and her own impending old age, the scene shifts to a lakeside hotel and the story takes on some of the elements of an Agatha Christie novel. Who will the 'killer' prove to be? The longing for soaring love and the graphic trials of caregiving and married life. The beauty of ideals a­­nd the ugliness of reality. This exquisite novel, though accepting of the world's heavy shackles, is touched throughout by a soft, fresh breeze."—MAINICHI SHIMBUN
"Inheritance from Mother is the author's first newspaper novel. She instructed herself to 'keep it entertaining by all means.' There is no shortage of techniques to draw the reader's interest, including the insertion of scenes in the style of an Agatha Christie mystery." —SA­­NKEI SHIMBUN
"This book depicts the hilarity, pain, and absurdity of life in crystal-clear prose. Perhaps most moving of all are the agonizing life-and-death struggles of the people whom Mitsuki encounters at the hotel in Hakone where she travels alone after her mother's death. There for the first time she­ contemplates divorce head-on: 'After giving the matter a great deal of thought, she decided that even if she did not go through with the divorce, facing squarely the fact that her marriage had been a failure was the least she could do to live out her life with dignity.'" —SHUKAN GENDAI
"In this superb novel the author, who is also a student of early modern Japanese literature, has assimilated novelistic conventions nurtured since the Meiji period, creating a seamless literary whole." —BUNGEI SHUNJU
"The author's rich vocabulary and power of expression are overwhelming, her character portraits so spot-on that the characters are easy to visualize. Other literary works pop up here and there, an irresistible touch. The reason for the subtitle 'A newspaper novel' becomes clear in the second half. This is an eminently satisfying read, skillfully interweaving the warp of the story with the woof of description." —HON NO ZASSHI
Comments