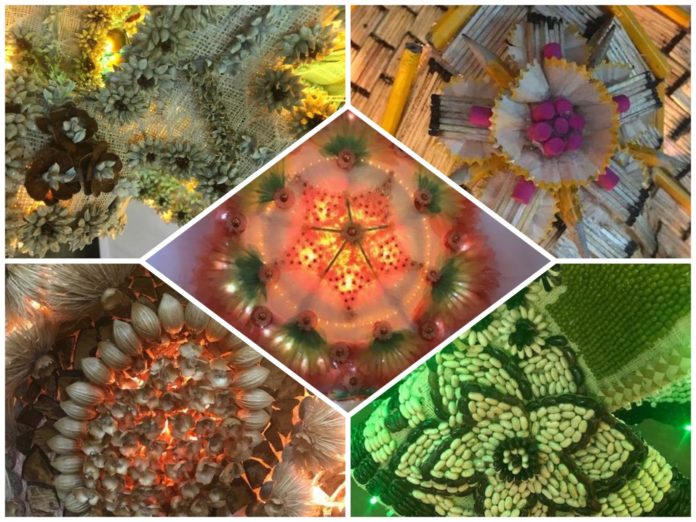 Bauan, Batangas – Philippines – I recently visited the small town of Bauan, Batangas per the invitation of a friend Cecille Cordero-Diaz, a former member of the world-renowned Bayanihan Philippine Dance Company and now Director and Choreographer of the Philippine fold dance group called "Sining Kumintang" currently one of the best folkdance group of the Philippines, based in Bauan, Batangas. Cecille invited me and some former members of the Bayanihan, to be judges in her folkdance competition from the students of the Bauan
High School.
Upon arrival at the school, I was guided by Cecille's Mom Mrs. Agnes Cordero to an exhibit of Philippine "Parols" made by the students of the school. I was in awe when I saw these huge and heavy lanterns displayed in one private room. Cecille's Mom explained to me the make of each "parol" by group of students who work for the last three months putting them together. I was in awe when I learned and saw what these lanterns were made of. No wonder it took the students more than three months to finish them. They used assorted
beans, corn, garlic and onion peals, rice grain, and much more.
A parol is an ornamental, star-shaped Christmas lantern from the Philippines. It is traditionally made of bamboo and paper and comes in various sizes and shapes, but generally the basic star pattern remains dominant. The design of the parol evokes the Star of Bethlehem that guided the Three Kings to the manger were Christ was born. This tradition is believed to have been introduced to the Philippines by the Mexicans during the "Acapulco Trade" era when the Spaniards occupied the Philippines for more than 400 hundred years importing Mexicans from Acapulco.
I share to you now in these photos, the talents and ingenuity of the Filipinos which is unquestionably one of the best in the world.
A Philippine "parol" made of Pencils, pencil pigments, and matches. 
 A Philippine "parol" made of Pistachio nuts and Pistachio peal (skin) 
A Philippine "parol" made of Guyabano Leaves
A Philippine "parol" made of fish scales. Some dyed for color presentation. 
A Philippine "parol" made of corn skin, fruit, seeds and leaves 
A Philippine "parol" made of Mung beans and other assorted beans 
A Philippine "parol" made of Betle Nut 
A Philippine "parol" made of "Kalamansi" (Philippine mini limes) seeds and "Abaca" leaves 
A Philippine "parol" made of Gralic and Onion peals and garlic heads 
Photos by Joey Omila
Comments