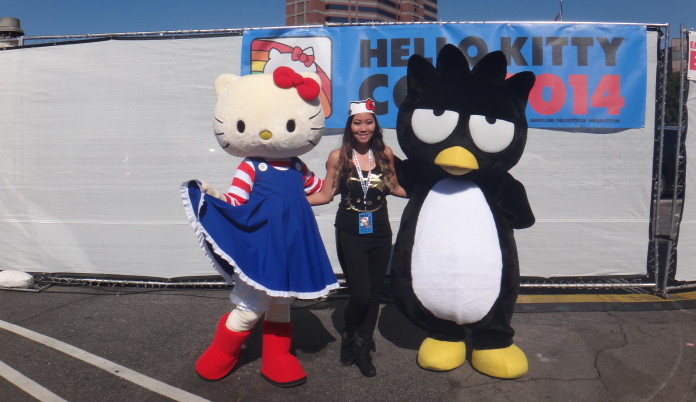 On November 2nd, Sanrio celebrated their famous character's 40th anniversary by hosting the very first Hello Kitty convention in Los Angeles, California. This sold out event featured themed art exhibits, food, workshops, and exclusive products. Yuko Yamaguchi, the main designer of Hello Kitty even made an appearance to give hundreds of lucky ticket holders a personalized autograph! Hello Kitty was created in 1974 to inspire happiness, friendship, and sharing across the world. It is no wonder that she has so many dedicated fans that would travel across the world to celebrate her symbol. Her famous motto, "You can never have too many friends" has proven to be a strong campaign in the retail industry. Her brand has found its way into many companies, some of which were featured at the convention such as Dylan's candy shop, Sephora, and Loungefly accessories.
As excited fans shuffled into the convention, each person was handed an exclusive pin to wear along with an awesome Hello KittyCon 2014 book bag. Several stations were set up in the outdoor area which hosted activities such as coloring, pumpkin decorating, and temporary tattoos. Several food trucks provided for hungry fans but the best food truck goes to the Hello Kitty Café which sold adorable bow themed water bottles, cake pops, and glazed doughnuts-almost too cute to eat! Upon entering the convention, there were Hello Kitty themed ATMs to the right side and several phone charging stations to the left side. The main room hosted the stage, DJ booth, and the wall of fame where Sanrio framed its signature gift bags of over 40 years. Amazing Hello Kitty murals and art exhibits filled every room giving a specific theme to each section of the event. To the left was the souvenir store which sold exclusive products, the "HKink shop" where fans could get real Hello Kitty tattoos, and the Target sponsored room. The back of the convention hosted two fabulous rows of Hello Kitty fashion and designer dresses to showcase her ability to be couture! The most traffic was on the far left side of the convention where Hello Kitty themed products were sold. Themed spam, purses, clothing, candy, dolls, and car accessories are just a few on the long list of items that were for sale. For being the first convention ever, this event was such a success!! Fans hope that Sanrio makes this an annual event so that more people will have the opportunity to experience this celebration in person!
The Japanese American Museum adjacent to the convention also had a lot of positive traffic that weekend, even drawing in celebrities such as Tyra Banks and Katy Perry! This amazing museum provides fans with a better insight into Hello Kitty's background as a character and holds over 1,000 pieces of Hello Kitty products accumulated by Sanrio over a 40 year span. If you are ever visiting Los Angeles, please take some time to visit!
Photos: Tina Buadaeng
Comments