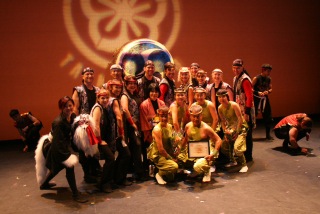 San Francisco Taiko Dojo celebrated their 45th anniversary in 2013. Taiko is a traditional Japanese Drumming which has widely spread amongst United States in the past few decades. Grand Master Seiichi Tanaka, who established San Francisco Taiko Dojo, was the first to bring this cultural art performance to America. Ever since, the number of students exceeded 15,000, and he has been recognized by many countries. Last year, he was awarded the Order of the Rising Sun for his promotion of Japanese culture.
Over ten various Taiko artists across America and Japan joined to perform at the 45th International Taiko Festival. Guest artists from Japan were Wako Daiko, Hachijo Daiko Hiroo Asanuma, Osuwa Daiko, and Tsuzumi Master Kiyonari Tosha. Performers from United States included Sacramento Taiko Dan, Taiko Master Kenny Endo from Hawaii, Fushu Daiko and Matsuriza from Florida.
The opening performance was done by Rising Stars, the youth group from San Francisco Taiko Dojo. One after another, different Taiko teams demonstrated their unique drumming styles: Osuwa Daiko, one of the top groups in Japan, presented traditional shrine music; Wako Daiko performed an ancient festival style from Tokyo; and many more with a blend of contemporary drumming style and multicultural perspective. While it was a "Taiko" festival, different musical instruments as well as performances entertained the crowd. Ernie West Coast World Action Team presented a collaboration of martial arts and taiko drumming. Shakuhachi player Marco Lienhard and saxophonist Russel Baba fascinated the audience with their beautiful tune of both modern and traditional composition.
Grand Master Seiichi Tanaka's renowned piece, "Tsunami" marked the finale of the festival. Members from each Taiko team relayed solos on the "Odaiko," the big fat drum, and shook the stage. The thunderous drumming and the cheers from the audience and drummers behind the curtains excited the entire Zellerbach Hall.
Please visit www.sftaiko.com for further information regarding San Francisco Taiko Dojo.
Comments