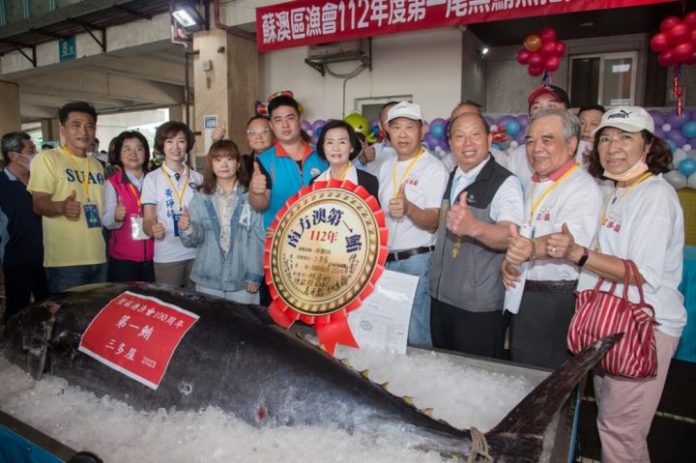 The first bluefin tuna of the season brought to shore in Yilan County was auctioned Saturday for NT$2.24 million (US$73,395), according to a fisherman's association there.
The tuna, which weighed 320 kilograms, was brought into port by a Su'ao-registered fishing boat, the Zai Fa No. 68, the Su'ao Fishermen's Association said.
It was the biggest first catch of Yilan's bluefin tuna season, in terms of weight, in nearly 10 years, said Tsai Yuan-lung (蔡源龍), who heads the association.
The fish was put up for auction at a Nanfang'ao seafood market and was sold to Sando House, a sashimi restaurant operator, for NT$2.24 million, which was NT$7,000 per kilogram.
For a tuna to be deemed the first catch of the season, the fishing boat has to be legally registered in Taiwan and has to be the first to return to Yilan port with a bluefin weighing at least 180 kg, according to the Yilan County government.
Last year, Yilan's first bluefin tuna of the season weighed 271 kg, and was later sold for NT$1.89 million. In 2021, the first bluefin tuna catch in Yilan fetched NT$1.51 million, and the first one in 2020 was auctioned for NT$2 million.
Comments