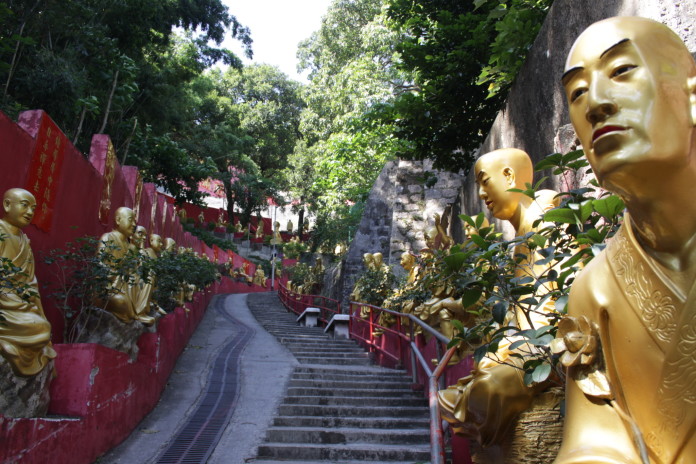 The Monastery of Ten Thousand Buddhas in Sha Tin, Hong Kong. Are there really 10,000
Buddhas at this Monastery? Surely such a thing isn't possible?" Well, I discovered it is possible. Here's a little history lesson about the Monastery:
Built in 1957 by Reverend Yuet Kai and his disciples, the Monastery of Ten Thousand
Buddhas took eight years to complete. It took an additional ten years to make the 10,000
plus gold plated ceramic Buddha statues that adorn the interior walls.
Getting to the Monastery is either extremely hard or easy depending on your point of
view. To reach the top you need to follow a path of 400 steps.
Once you reach the main path you're greeted by thousands of Buddhas. No, these aren't
the 10,000 Buddhas, those are at the top. These statues are life-sized, painted gold, and every one of them has a distinctive appearance. It's really quite amazing actually. Thousands of statues that all look different. All have different poses and expressions. Some are carrying props, some aren't. I found myself stopping every couple feet to take photos of the different ones I saw. It was tiring, but rewarding.
Once your travels of the 400 steps has ended and you reach the top, you're rewarded
with this beautiful courtyard. There are two levels to the Monastery; this is the first. The
lower level is made up of a pagoda, two pavilions and a tower.
Comments