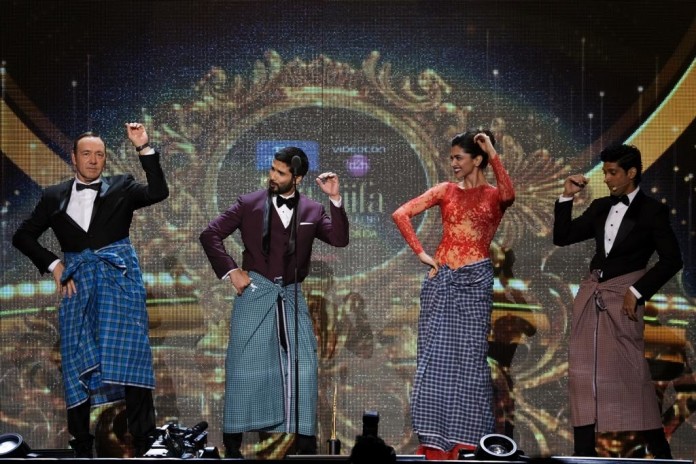 The International Indian Film Academy  showcased  India's film industry and stars in Tampa at the  15th Videocon D2H IIFA Weekend and Tata Motors IIFA Awards during April 23-26.  For the first time, the "Bollywood Oscars" were held in the United States and Tampa.
At the opening news conference, officials and community leaders looked back at the months of planning and effort to bring the IIFA  awards here.
"We're happy that you're here and to all the stars who are here, the actors, producers and the writers, we want you to think of Tampa as your second home.  Because ultimately, this is not a four-day event, this is a multi-decade relationship. We're going to build on this. We're going to grow businesses as a result of this…..and as individuals, we will become friends," said Tampa Mayor Bob Buckhorn.
"We have assembled the best and the brightest, this Wizcraft and IIFA team…..We've waited through every bump and bruise and we've gotten here.  It's a dream come true for me to see this.  I knew it with my vision for Hillsborough County, Tampa, Tampa Bay to increase our presence on the international stage," said Hillsborough County Commissioner Al Higginbotham.
"There were many skeptics. There were many people who thought it couldn't be pulled off, but it happened,"   said Dr. Kiran Patel,  IIFA  co-host.
I've had the opportunity to visit India a few times. The compassion, the culture, the energy of India is unbelievable… and you're in the right city. So, we're excited that you're here," said Florida Governor  Rick Scott.
"I'm equally from Tampa Bay….It's been a wonderful, wonderful experience. Look at my heart, look  at all our hearts and what can you see? That we love Tampa Bay and we will make this weekend an unforgettable, historical weekend you will cherish all your life," said Actor Anil Kapoor, who was in the movie, "Slumdog Millionaire."
For 4 days, Tampa felt the glitz and glamour of "Bollywood."  Fans of India's films waited to see their favorite stars at the downtown Hilton.  Others paid hundreds of dollars for tickets to be with the celebrities at formal, green carpet  events  at the Tampa Convention Center, Mid-Florida Credit  Union Amphitheater ("IIFA Magic of the Movies "– technical awards) and  the prestigious awards show at Raymond James Stadium on Saturday, April 26th. IIFA also premiered international actor Anupam Kher's short film, "I went shopping for Robert De Niro."  Kher co-starred with De Niro in the Oscar- nominated film, "Silver Linings Playbook."
The IIFA Stomp opened the festival Wednesday night. More than 2,000 people attended the free, public event of India's music, dances and food at Curtis Hixon Park in downtown Tampa. The Stomp was the academy's way to thank the Indian community and the Tampa Bay area for welcoming them.
IIFA also brought the largest group of Indian and international stars ever assembled to Tampa.   Actors and celebrities Priyanka Chopra, Deepika Padukone,  Tampa's DJ Ravi Drums, Stephen Baldwin, Kevin Spacey  ("House of Cards") and John Travolta attended.  On Saturday, Spacey led a master class on acting and danced on stage at the evening awards at Raymond James Stadium.
"Bhaag Milkha Bhaag" won Best Film, Best Director, Best Male Performance in a Leading Role, Best Female Performance in a Supporting Role and Best Story awards.  Farhan Akhtar won best actor for his role in the movie. Akhtar and Shahid Kapoor hosted the awards.
Deepika Padukone won the best actress award for her role in the film, "Chennai Express."
John Travolta was awarded for "Outstanding Contribution to International Cinema."
"I am honored and humbled to be put in this category. I believe that as human beings, we are alike and this is a medium to celebrate our similarities. A heartfelt thank you to IIFA and the Indian film community," said Travolta.
Comments