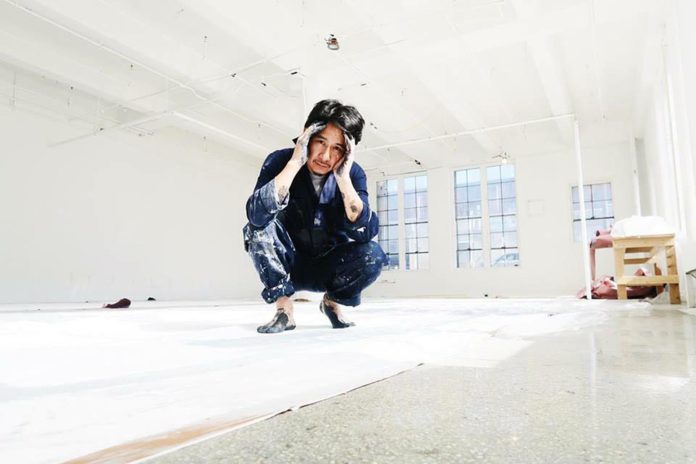 ̶   To witness America's confrontation of ideas, the Chinese artist strategically schedules his New York residency and U.S. lecture tour to create a new body of work in the U.S. during one of its most tempestuous periodes ever   ̶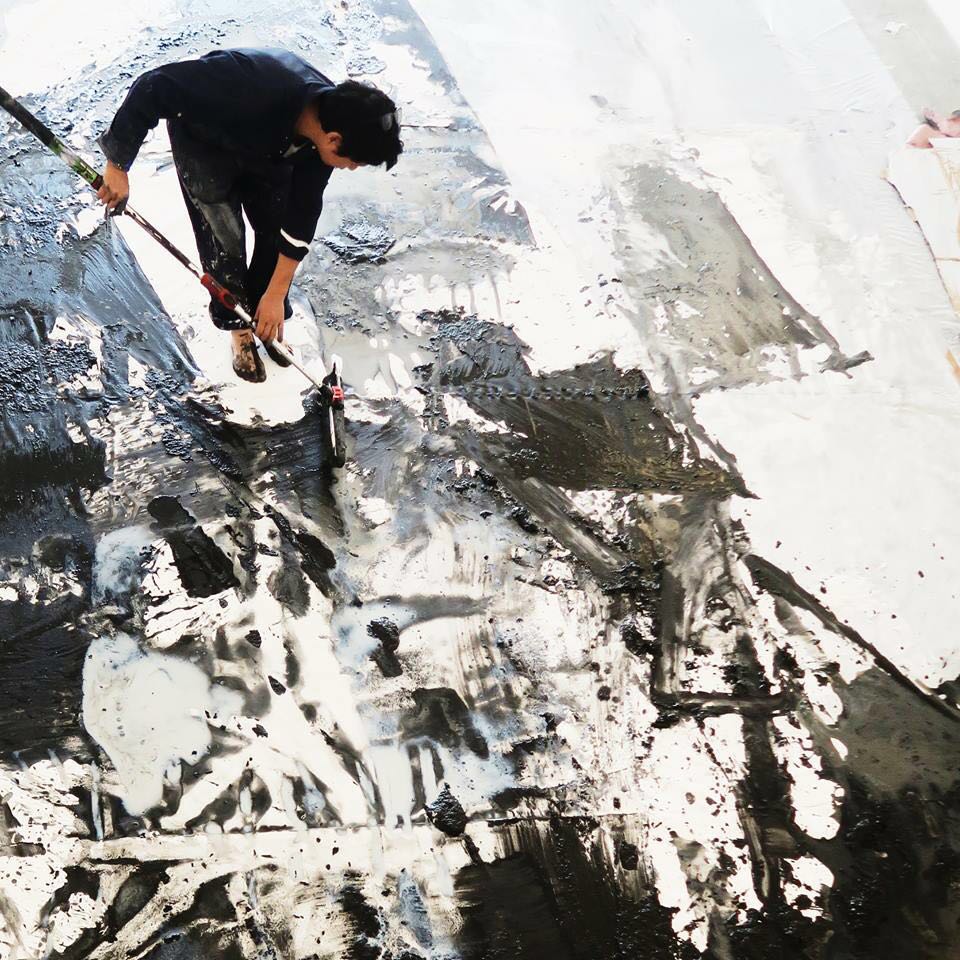 (NEW YORK & BEIJING)  ─ "I want a front-row seat to personally witness this historic confrontation of ideas, politics and culture happening in the United States," said Lan Zhenghui, one of China's leading contemporary artists.
"The new artwork I create while living in America during this turbulent time will reflect the spirit of my art  ̶  which has always been about the collision of old traditions and new ideas."
Strategically scheduling his visit to the U.S. from September through January, Lan Zhenghui will create new artwork during a six-month studio residency at Mana Contemporary.
The artist is also presenting a series of lectures throughout the U.S. that has included invitations to speak at the Rubell Family Collection, Florida International University's College of Architecture + The Arts, and the Maryland Institute College of Art (MICA). He is renowned worldwide as the first-ever Chinese contemporary artist to catapult the ancient traditions of heavy ink painting with electrifying contemporary abstract expressionism.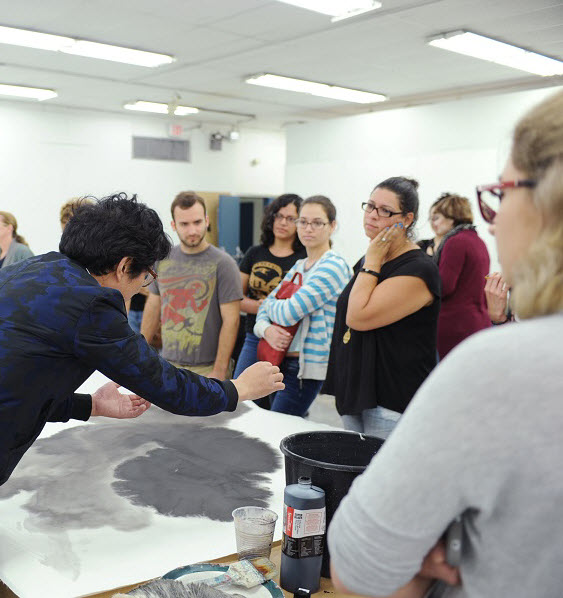 During his six months in the U.S., Lan Zhenghui will create a new body of work that reflects his immersion into a period that promises to be unlike any other in America's history.
"As all around me the U.S. grapples with the push-and-pull of new ideas challenging old traditions, this American experience will advance my artwork into new directions. My interactions and engagements with artists, art students, culture seekers and the public in the U.S. will impact my new work. I know for sure that the spirit of America as a frontier for new ideas will ultimately endure," adds Zhenghui.
Watch the new video about Lan Zhenghui's artistic trajectory –
The artist's personal presentations during his U.S. lecture series are heralded for connecting deeply with the audiences at each community where Lan Zhenghui is invited to speak.
At the Rubell Family Collection, the famed art collector Mera Rubell personally moderated the event. Along with her husband Donald, the Rubells recently selected Lan Zhenghui's artworks for their exhibition 28 Chinese, featuring artists they personally discovered during their travels in China.
After launching the exhibition during Art Basel Miami Beach, 28 Chinese is touring the U.S. including presentations at San Francisco's Asian Art Museum and the San Antonio Museum of Art. This exhibition is the culmination of six research trips to China for Mera and Don Rubell during ten years, visiting one hundred artist studios in Beijing, Chengdu, Guangzhou, Hangshou, Hong Kong, Shanghai and Xi'an to acquire the artwork for their permanent collection and for this traveling exhibition.
At the Maryland Institute of Art (MICA), Lan was invited to speak to an audience of artists, students and collectors during a presentation at the Leroy E. Hoffberger School of Painting organized by its Director, Joan Waltemath.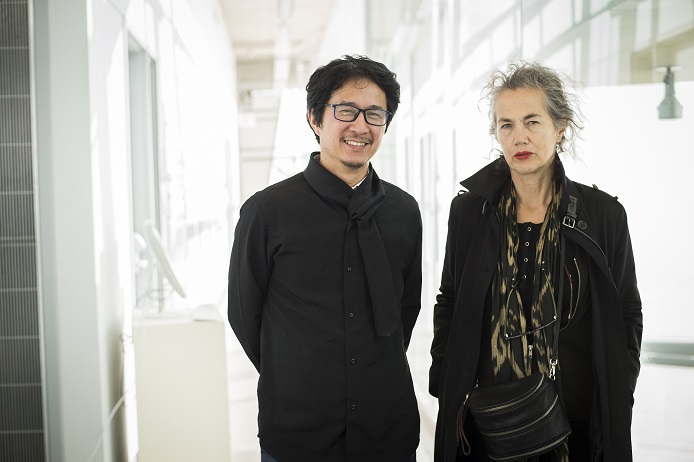 At Florida International University, the artist was welcomed by the Chair of Art + Art History, Jacek Kolasinski and the esteemed Professor of Chinese Art and Asian Art History, Lidu Yi.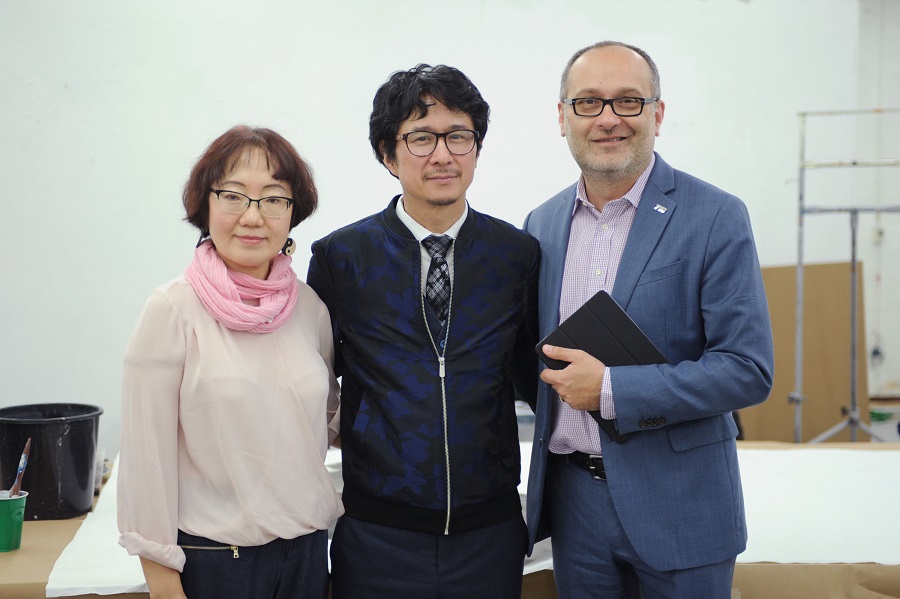 During his lectures, the artist provokes and challenges students and artists with tales of his dramatic artistic trajectory. Tears and laughter abound as Lan recounts tales of his personal experiences as an artist during some of China's own confrontational moments in the 1980s and 1990s.
"During this pivotal time when society is hungry for more authenticity, I want to earnestly connect with my audiences by relating my personal struggles as an artist, lessons learned, and hope," said Lan Zhenghui. 
Lan Zhenghui launched the "Power Brush" movement and is recognized internationally for taking the free-hand strokes of traditional Chinese heavy ink painting to new levels: infusing them with the abstractions and expressiveness found in contemporary art.
The results are breathtaking large-scale masterworks on enormous panels.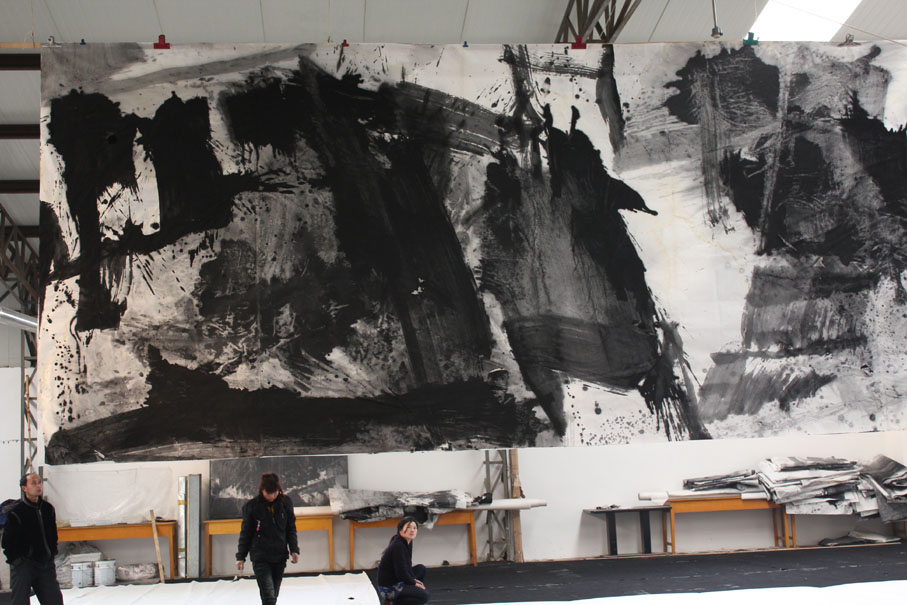 Credited with creating a never-before-seen aesthetic confluence between the age-old traditions of Chinese heavy ink painting and Western abstract expressionism, Lan Zhenghui's work has famously reinvented both.  His bold, kinetic strokes drive the ink to discover its own momentum in ways that have forever changed the landscape of contemporary Chinese art – liberating ink from being determined by form.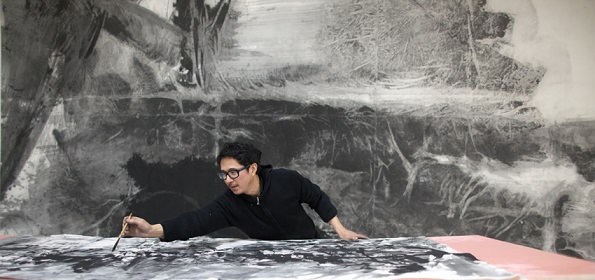 The ancient spirits of Chinese landscape linger however, like ghosts on the canvas. They haunt both his process – the brushstrokes, the vectoring – and the resulting shapes. Mountains, rivers, storms, even figures surge and evaporate subliminally.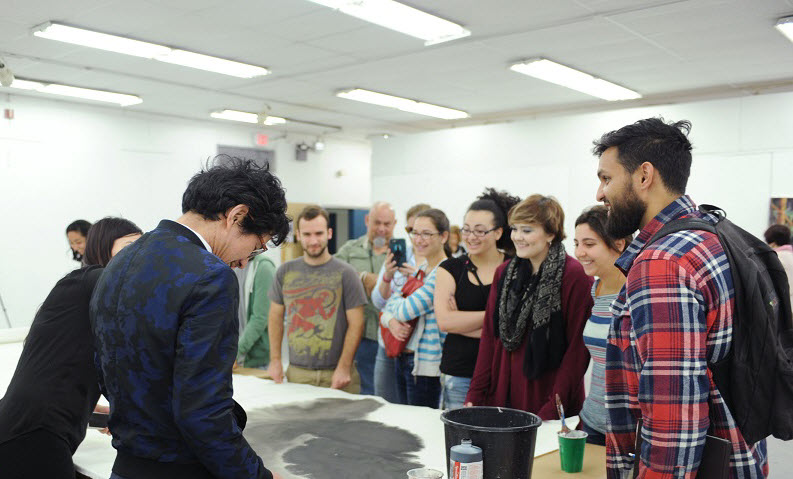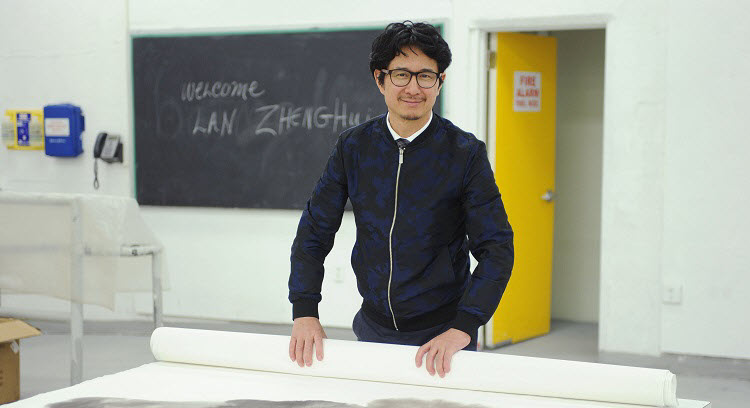 NOTE TO EDITORS AND PRODUCERS:
The artist is available for interviews leading up to his U.S. residency and lecture tour, and during his time in America from September of 2016 through January of 2017.
ABOUT THE ARTIST:
Born in Sichuan China in 1959, Lan graduated in 1987 from one of China's most prestigious art academies, the Sichuan Academy of Art (famous alumni include Zhang Xiaogang and Zhou Chunya). He has focused his career working in contemporary ink painting and calligraphy, and his powerful ink movement is based on more than 20 years of passionate research for his vision of constructing art via ink traditions in new ways.
Known for monumental, large-scale abstract ink paintings, Lan's work departs from Chinese ink traditions through his raw individualism, (a rarity in China), emotional expressiveness, and physicality. This results in brave, varying densities of ink application and the artist splashing ink directly onto the paper. Preferring a free-handed approach instead of a brushstroke, in 2000 Lan launched the "power brush" movement.
Watch the performance art video featuring Lan's new works –
His work has been shown at the China National Art Museum, Beijing; Guangdong Museum of Art, Guangzhou; Duolun Museum of Modern Art, Shanghai; Royal City Art Museum, Beijing; SDMOMA, Shanghai; Museum of Contemporary Art, Beijing; the Flemish Museum, Brussels; The Art Institute of Chicago; Hubei Museum of Art; The Third Biennial China-Italia in Turin, Italy; Venice Biennale 56th International Art Exhibition; International Art Expo in Taibei; Art Dubai; Art Toronto and Baden-Wurttemberg in Germany.
Other exhibitions include at Pearl Lam Galleries (Hong Kong and Shanghai); Ethan Cohen New York; the Gallerie du Monde, Hong Kong; Poligono Gallery, Spain; Castle of Malcesine, Verona, Italy; O House Gallery, Jakarta, Indonesia; RAAB Galerie, Bonn; and International Modern Calligraphic Art Exhibition, Seoul; the VOLTA Art Fair (during Art Basel in Switzerland; Art Miami 2015 (during Art Basel Miami Beach); and Art Central 2015 and 2016 (during Hong Kong Art Week/Art Basel Hong Kong, commissioned to create large-scale installations).
Lan's work appears in the collections of the China National Art Museum in Beijing; Princeton University; Guangdong Museum of Art, China; the Consul General of the British Consulate at Guangzhou; the Chinese Cultural Centre of Toronto; the Rubell Family Collection and the Artron Group of China.
Lan Zhenghui has been selected by some of the world's leading luxury brands for special projects, including Mercedes-Maybach and Volkswagen Phaeton.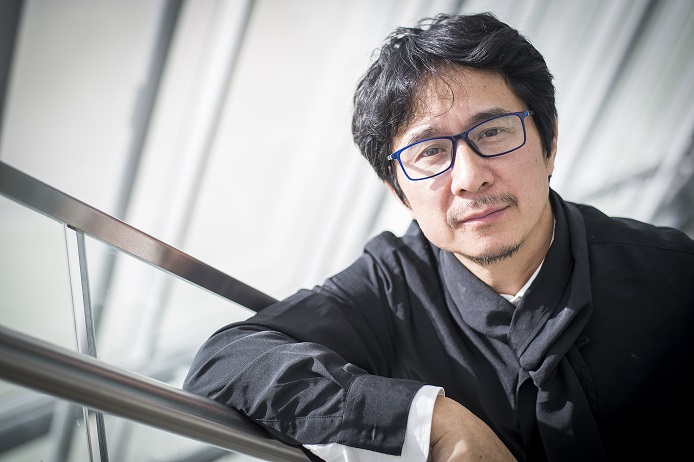 Comments