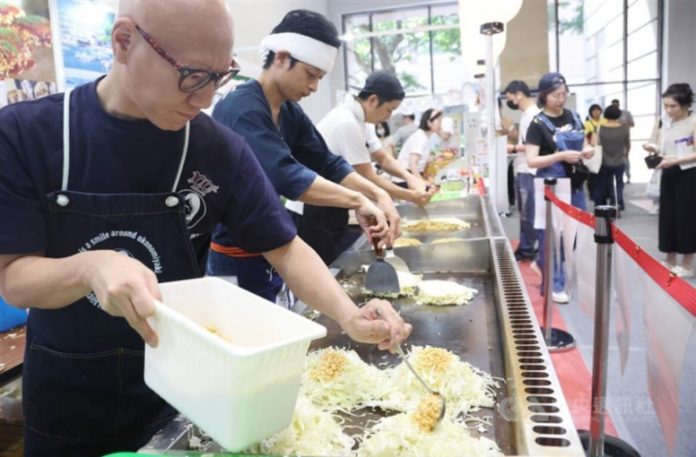 Tastes from around the world, including udon noodles, plum wine and Japanese sake from Kagawa Prefecture, were among the culinary delights that appealed to visitors on the final day of the 2023 Taiwan Culinary Exhibition in Taipei on August 7.
Kagawa, a prefecture in the northern part of Shikoku Island that had its own booth at the show, is the birthplace of "Sanuki udon," a name that sets the noodles apart from those of other regions of Japan.
"Sanuki is the ancient name for Kagawa Prefecture," Seiya Miyamoto, one of those at the Kagawa Prefecture booth, told CNA.
"With the improved wheat variety cultivated in Kagawa as the main ingredient and the noodles made on-site, Sanuki udon taste tender outside but chewy inside," he said.
Also, the tsuyu sauce that goes with Sanuki udon is made of bonito caught in the Seto Inland Sea, creating a sweet taste that no other prefectures in Japan can duplicate, according to Miyamoto.
Apart from Sanuki udon, Kagawa is also known for its plum wine and sake.
The exhibition-exclusive "White Sugar Plum Wine," manufactured by 200-year-old brewery Kinryo Company, was made of white sugar from Higashikagawa and plums from Mitoyo in Kagawa prefecture, Miyamoto said.
Several international visitors seemed to enjoy the Kagawa offerings.
A boy from Dubai, who is on a cruise with his aunt, told CNA that he really enjoyed the udon noodles.
Another visitor, a woman from California, told CNA that the Japanese sake had a unique "smooth taste" that was different from the stronger flavors he has tasted in California and elsewhere.
The two visitors were among 300 international visitors who were on a cruise that made the Taipei culinary expo one of the ship's excursions during its stop in Keelung.
Aside from favorites from Kagawa, the show's "Exotic Cuisine Area" that showcased flavors from overseas also featured booths from South Korea, Vietnam and Nigeria.
Nigeria was showcasing a variety of its local agricultural products, South Korea highlighted the food theme of "Jeollanam-do," an area in southern South Korea that is an important granary, and Vietnam prepared a wide range of healthy teas.
According to the organizers of the Taiwan Culinary Exhibition, this year's expo had a total of 600 booths and welcomed 99,375 visitors during its run from Aug. 4-7, 34.1 percent more than last year, the organizers said.
Comments