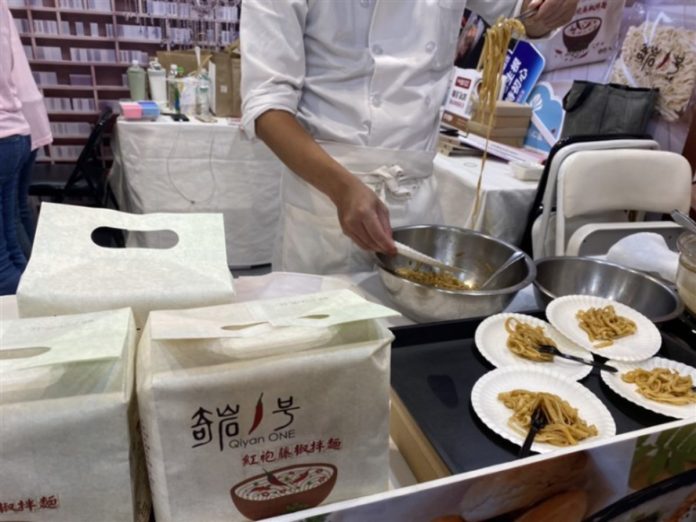 The exquisite flavors and dishes infused with local ingredients, such as chocolate tea and custard apple ice cream, have won high praises from foreign visitors at the 2023 Taiwan Culinary Exhibition.
One of the highlights of the exhibition, held in Taipei from Aug. 4-7, was chocolate tea, a surprise for many visitors.
"The chocolate was good, I didn't know chocolate tea was a thing. I didn't know you could do that," James, a New Zealander visiting Taiwan, told CNA.
"I don't think there's anything here that I haven't enjoyed," he added.
The chocolate tea was sourced from Bonnie Chocolate Workshop, known for producing chocolate made in Taiwan with carefully selected cocoa from Pingtung in southern Taiwan, according to the organizers.
The unique preparation involves grinding whole cocoa beans without any additives, preserving the original flavor and aroma of the beans, the organizers said.
Another delicacy that caught the attention of visitors was custard apple ice cream.
Daniel, a New Zealand national who has lived in Taiwan for six months, told CNA he has tried custard apples before but never as ice cream, adding that he was impressed with the intriguing combination.
Markus Matthes, a German expatriate who has resided in Taiwan for more than 25 years, shared his thoughts with CNA: "This is the first time I have attended the exhibition, and I'm surprised to see how busy it is."
As of Sunday, the 600-booth annul event had attracted nearly 100,000 visitors, 40,000 less than in 2019, prior to the COVID-19 pandemic, according to the organizers.
Among the attendees Monday were about 300 foreign tourists from a Singapore cruise ship docked in Keelung, who spent one day in Taipei and chose to sample Taiwanese food from various stalls.
Neshka, a retired cook from Puerto Rico on a cruise holiday, was particularly impressed with the Sichuan peppercorn noodles, praising them as the "best noodles" she had ever tasted.
The 2023 Taiwan Culinary Exhibition was organized into four sections: "Golden Selection" highlighting award-winning cuisine, "Taste of Taiwan" showcasing the diverse culinary landscape of Taiwan, "Exotic Cuisine" featuring delicacies from Japan, South Korea and Nigeria, and "Food Art Gallery" displaying innovative culinary creations.
Comments