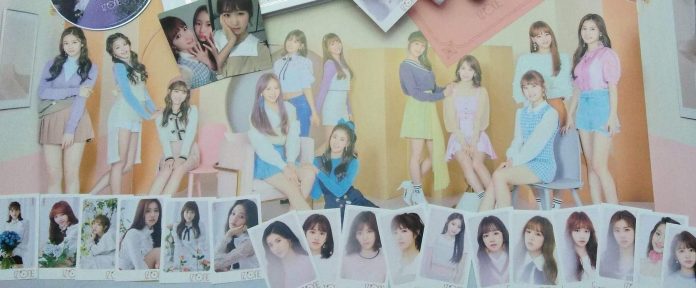 Korean girl group IZ*ONE released their Japanese debut single, Suki to Iwasetai (好きと言わせたい), on February 6, 2019. This release delivers a new concept, following up on the group's debut album Color*Iz, featuring their hit song "La Vie en Rose." For Color*Iz, fans could buy one of two versions (or both!)–a serious "Rose" version and a cute "Color" version. Fans bought the photo book they liked and the CD tracklist remained the same regardless of the version.
Suki to Iwasetai, however, is being released in the style of AKB48 singles, where fans really have to buy all available versions in order to complete the release track list. Check out the short promotion reel for the cd here, now on YouTube:
All three versions can be found online, direct at www.universal-music.co.jp/izone or through shopping sites such as www.cdjapan.co.jp (with limited-time bonuses!). Other fans buy singles through proxy services and fan-hosted group orders.
Fans on a budget (like me!) would have to pick one of three versions to buy: Type A, Type B, and WIZ*ONE versions. So, to help out, I'll outline what's included in each version:
All 3 versions will have 6 tracks: 3 regular tracks and 3 off-vocal tracks.
All 3 versions will include the single "Suki to Iwasetai (好きと言わせたい)" and the B-side "Kenchanayo (ケンチャナヨ)"
Type A includes "Gokigen Sayonara (ご機嫌サヨナラ)" as Track 3 and a music video DVD of it.
Type B features "Neko ni Naritai (猫になりたい")" as Track 3 and a music video DVD of it.
WIZ*ONE features "Dance wo Omoidasumade (ダンスを思い出すまで)" as Track 3.
WIZ*ONE version has 13 different covers: one group cover and 12 individual member covers.
So the lineup is as follows:
Suki to Iwasetai (好きと言わせたい)
Kenchanayo (ケンチャナヨ)
Version exclusive:

Type A: Gokigen Sayonara (ご機嫌サヨナラ) or
Type B: Neko ni Naritai (猫になりたい) or
WIZ*ONE: Dance wo Omoidasumade (ダンスを思い出すまで)

Off-vocals of tracks 1-3
Type A's "Gokigen Sayonara" is a 7-member subunit song featuring members Chaewon, Chaeyeon, Eunbi, Hitomi, Hyewon, Yujin, and Wonyoung.
Type B's "Neko ni Naritai" features a subunit with Minju, Nako, Sakura, Yena, and Yuri.
WIZ*ONE's "Dance wo Omoidasumade" is a duet featuring Sakura and Wonyoung. Preorders for the release is going quite well, given that different versions come with incentive lottery raffles for hi-touch, showcase, and member signing opportunities.
The 12-member group is fast-tracked for success with various promotions, online and print features, show appearances, and a handful of notable awards since their debut in October 2018. As a group, IZ*ONE performed in the year-end MAMA in Korea, Japan, and Hong Kong. They also earned rookie awards from the Asia Artist, Gaon Chart, Golden Disc, Mnet, and Seoul Music Awards.
IZ*ONE's members were chosen as winners of a Mnet reality competition show Produce 48, a collaboration between Mnet's South Korean talent competition franchise Produce 101 and one of the highest-earning J-pop franchises, AKB48. Because of this, IZ*ONE is powered by talents from AKB48's and associated act HKT48's active idols as well as trainees from various South Korean entertainment companies (e.g. 8D, Starship, Stone Music, Urban Workds, WM, Woollim, YUEHUA).
Will you buy one or all three versions of
Suki to Iwasetai? While deciding, you can also watch an unboxing of IZ*ONE's debut album, Color*Iz, here:
Comments