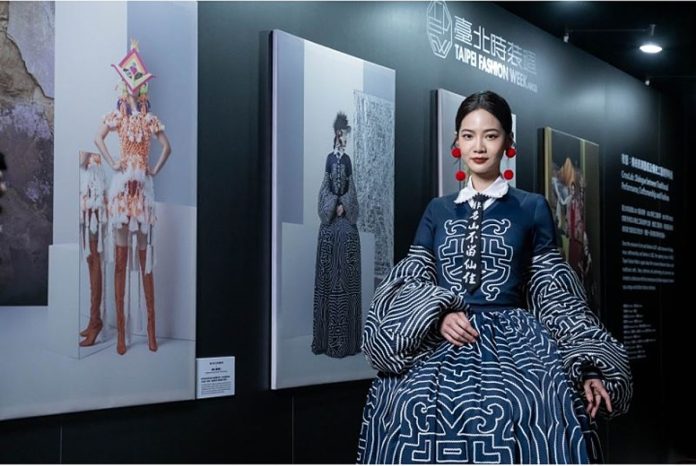 Taipei Fashion Week (TFW) AW23, organized by the Ministry of Culture, will take place from March 22 to April. 9. With the theme "Respect the Craftsmanship (敬藝)," the opening show of the event, featuring 70 fashion designs created through collaborations between fashion designers and traditional Taiwanese artists, will be held at Nankunshen Temple, a national intangible cultural asset in Tainan, on March 22. A series of fashion shows will subsequently be shown at Songshan Cultural and Creative Park.
On March 7, a press conference for TFW AW23 unveiled some of the new works by Taiwanese designers in the presence of Culture Minister Shih Che (史哲), curator Florence Lu (盧淑芬), National Taiwan Craft Research and Development Institute director Chang Jen-chi (張仁吉), Bureau of Foreign Trade chief secretary Chiang Wen-juo (江文若), Taipei Department of Cultural Affairs Deputy Commissioner Chen Yu-hsin (陳譽馨), participating designers, representatives from universities of fashion-related departments, and other distinguished guests.
During his speech, Minister Shih mentioned the key role that fashion plays in the cultural and creative industry, noting that it serves as a pivotal gateway to internationalism. Given that traditional visual and performing arts in temples are considered the starting point of Taiwanese aesthetics, the TFW AW23 joins hands with the over-300-year-old Nankunshen Temple for the first time, to demonstrate Taiwan's cultural significance that synthesizes elements of traditional crafts and modern art.
As part of TFW AW23, there will be a "Sustainable Fashion (永續時尚)" theme show and 12 brand shows, which include a special showcase, New Breed, featuring three emerging designers. Additionally, seven fashion design schools will exhibit the works of their students. This year, the event will showcase a wide range of young designers and emerging brands, including fuyue (甫月), ZEIT x CHOW des HOMME, and John Zucca, all of whom will be participating in Taipei Fashion Week for the first time. Horse Lai, who stood out in last year's new designer show, will be the focus of attention this season.
On top of fashion shows, TFW AW23 also organizes physical retail locations, forums and sourcing meetings to help Taiwanese designers to expand international and domestic markets. For more information, please visit Taiwan Fashion Week's official website.
Comments